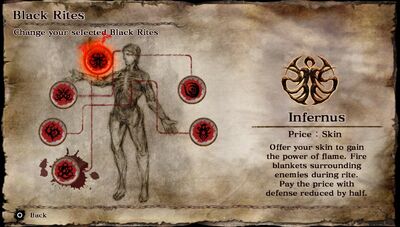 Black Rites are powerful moves that the player gains throughout the game. In exchange for being so powerful, they have restrictions on when and how often they can be used. In order for the option to use a Black Rite to even appear as an option, the player must first take a significant amount of damage, and upon using the Black Rite, the player will then be inflicted with a negative effect (which varies based on the Black Rite). A Black Rite can only be used once a quest and will then need to be restored using Lacrima. 
Each Black Rite is gained at a specific magic/life level. Infernus is earned in the first chapter, while the others are gained at magic/life levels 20 and 40.
Gorgon and Vulcan Black Rites are gained at Life levels 20 and 40 respectively, while Gleipnir and Excalibur Black Rites are gained at Magic levels 20 and 40 respectively. It is to be noted that once unlocked, it will not be locked again should the player choose to rewrite their arm levels below the unlock requirement for each Black Rite. 
Black Rites
Edit
Community content is available under
CC-BY-SA
unless otherwise noted.