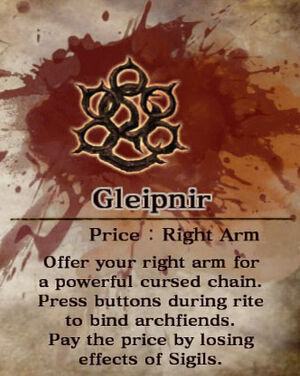 Gleipnir is a level 20 magic Black Rite.
"Offer your right arm for a powerful cursed chain. Press buttons during the rite to bind archfiends. Pay the price by losing effects of Sigils"
Requirements
Edit
Level 20 Magic
You sacrifice your right arm and use it as a chain to bind a single enemy.
Gleipnir will only bind one enemy.
After the rite is cast you will be penalized by having your sigil effects removed.
If Gleipnir is cast while using resolute sigil which keeps your health permanently at 1, your health will instantly become 100% following the message saying you can no longer use arm seals.
Damage can be further increased by applying Manual Sigil on the Palm section. Dark Arm III and above will gain an extra percentage of damage from the mentioned Sigil.
The animation of the Black Rite depicts the caster's right arm being ripped apart and transforming into a chain. The caster then uses the chain to bind the enemy into one place for the rest of the Black Rite's duration.
Community content is available under
CC-BY-SA
unless otherwise noted.