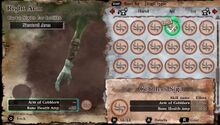 The Leprechauns are an Archfiend that once were a group of three brothers shoemakers who wanted to impress their father the legendary shoemaker. 
The free DLC which includes Incubus and Leprechauns was released in Japan on 20th of June. The release date of this DLC in North America was 20th of August and 21st of August in Europe.
Note: This section is incomplete and needs additional information (found in Librom's Lore section).

Spoiler warning!
This section may contain heavy spoilers due to content.
Some time ago there was a famous shoemaker who had triplets. All three triplets wanted to be their father's successor and decided the best way to do it was to shine by making amazing shoes. The triplets believed that the best leather is made from the skin of intelligent animals; the more intelligent the animal, the better the leather. And the most intelligent creature in the world is man. So, each of the brothers sacrificed themselves to make a shoe that would impress their father. But their father, disappointed that his sons competed for his approval, disowned them. It was only then that the triplets decided to work together.
Encounters
Edit
Forgotten Pacts - Hour of Ash - Brotherly Bust-up in the Cave (Original form; possible ally - Nadox)
Forgotten Pacts - Hour of Ash - Brotherly Brawling in the Cave (Doppelganger; possible ally - Warrel)
Forgotten Pacts - Hour of Ash - Dead Artists Society (Gemini pair with Incubus; possible ally - Bryn)
Gameplay Videos
Edit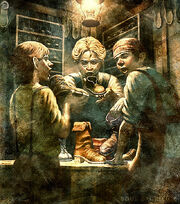 Community content is available under
CC-BY-SA
unless otherwise noted.