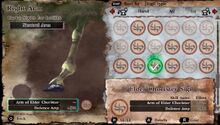 Musicians of Bremen is one of the 15 Archfiends introduced in Soul Sacrifice Delta. 
Spoiler warning!
This section contains plot details about the game.
Charge attack - A charge towards the characters, it will jump up beforehand. Use a shield offering to knock it down when it hits you.
Mortars - Two different versions, one where they will go straight forward in a barrage of four, the other where they will be fired randomly during the roar.
Roar - A roar that stumbles your character. It has a charge up so run when it raises on its hind legs with an orb in its front legs.
Rapid-fire - Two different versions, one where it fires directly ahead, another where it rotates its head. Get behind it and you should be safe.
Hind leg kick - A regular kick with its hind legs, surprisingly.
Barrier - A barrier that blocks ranged attacks. If it charges and hits your shield, the barrier breaks.
Community content is available under
CC-BY-SA
unless otherwise noted.