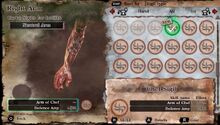 The Ogre is an Archfiend formed from a crazed chef who, in an attempt to remain the palace chef, sacrificed her own tongue in order to prepare a broth for the King.
The Ogre is one of the 10 Archfiends that will be released for free as DLC.  She was released together with another new Archfiend Dwarves. The release date in Japan was April 18th. Release date in the North America was 11th of June and 12th of June in Europe.
Spoiler warning!
This section contains plot details about the game.
The Ogre shares much of the same attacks of the Minotaur.
Swings Hook in wide ark.
Jumps and lunges at player, then slamming down its hook with considerable range. (It is best to dodge to the side.)
Stomps foot and charges to the player
Jumps up and slams down creating a shock wave that will stagger the player if caught too close.
If player is behind the Ogre, it can jump backward smashing into the player at a considerable speed.
The Ogre will put the hook into the ground and start a stiring motion creating a pool of lava. (The lava can hurt and cause a Burn status effect to the player) During this animation the Ogre will do one of two things:
She will quickly pull out the hook shooting lava balls towards the player and all directions. (limited range)
She will continue to stir and create pillars of lava that shoot from the ground. This attack can reach throughout the map. A small orange glowing circle will appear on the ground before the pillar shoots up.
Both attacks can cause a Burn status if hit.
Encounters
Edit
Soul SacrificeEdit
Soul Sacrifice DeltaEdit
A Heat based Archfiend that is weak to Frost.
Shares the similar model of the Minotaur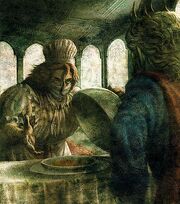 Community content is available under
CC-BY-SA
unless otherwise noted.