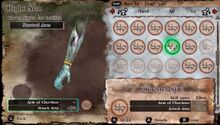 Spoiler warning!
This section contains plot details about the game.
Siren pounds the ground with the bottom of her staff, stunning nearby players.
Siren stands up, raises her staff then launches itself forward, falling down on anyone in its way.
Siren swings the staff. Later in the fight it will do it several times in a row, chasing a player.
Siren smashes the ground several times, then burrows itself underground. A dirt cloud will then appear and chase after a player. If it catches up the staff will burst out of the ground under the player and go back underground to repeat several times. Later in the fight, it will end it with a frost beam attack before she emerges
While using the burrowing attack, Siren will occasionally stop and raise its staff out of the ground, and will release a stunning roar after a moment.
Cursed Parts
Edit
Encounters
Edit
Has same body structure and some attacks same as Cyclops.
Community content is available under
CC-BY-SA
unless otherwise noted.