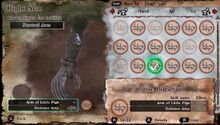 The Three Pigs is an Archfiend.
Spoiler warning!
This section contains plot details about the game.
Encounters
Edit
"I'm not like my brothers... I'm no pig..."
"I'm not like them' I tell you... They're lower than beasts, those two..."
"Carrying my brothers showed me... I learnt what a great man our father was..."
"What a heavy burden this is... Carrying those swines on my back..."
"I know what they're plotting... They want to live off me."
"I'm such a failure... I knew i wasn't ready for the responsabillity."
"I knew it... Our flesh and blood is the same... The flesh and blood of swine..."
"Piggy piggy piggy! Rheeeeee!"
Gameplay Videos
Edit
Community content is available under
CC-BY-SA
unless otherwise noted.